This machine is an economical full-automatic gluing/nailing all-in-one machine, which is composed of paper feeding department, gluing and folding department, nailing box department and counting and stacking output department.One machine multi-purpose, can stick, can nail, also can stick nail at the same time three, five layers of cardboard.Is a large and medium-sized carton factory ideal procurement equipment.
Machine parameter

Paper size request(mm)

L Max.

L Min.

C Max.

C Min.

D Max.

D Min.

B Max.

B Min.

Nailing number

2500

700

900

250

750

170

530

120

1-99
Feeding part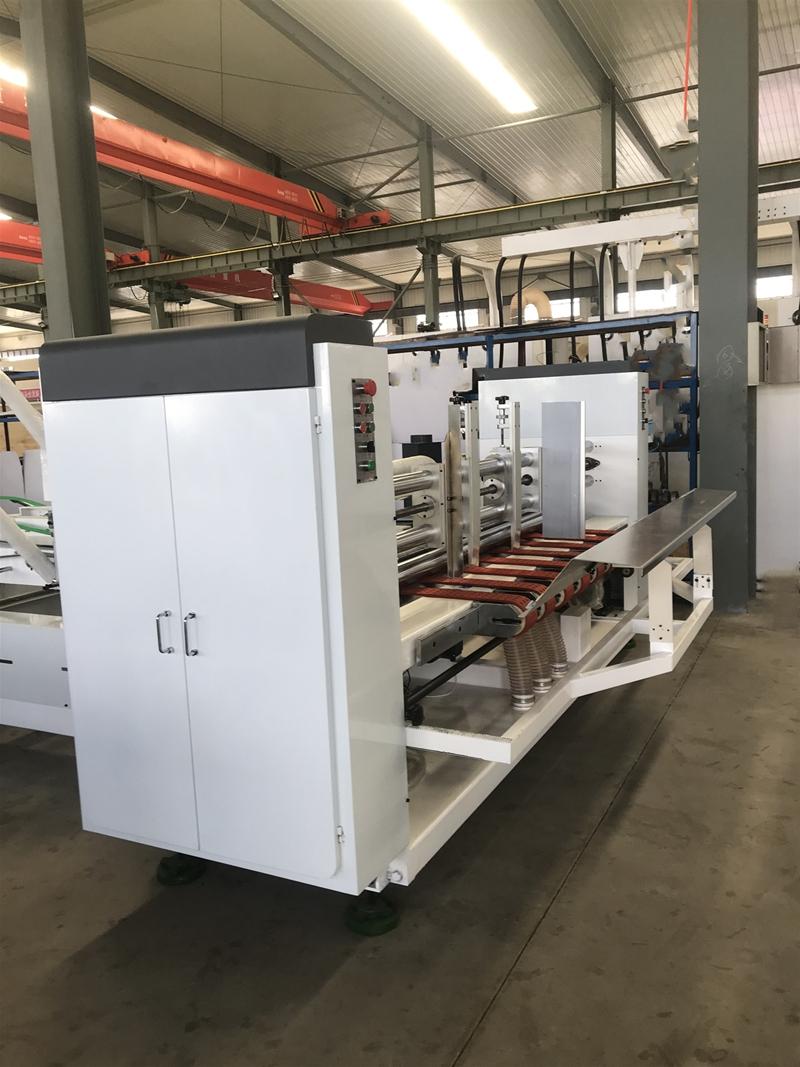 High friction belt suction paper feeding method, accurate and reliable, better adapt to the processing of curved paperboard.
Remote control adjustment system: remote control adjustment, convenient and timely.
The use of high-grade electromagnetic clutch and electromagnetic brake system, so that the paper feeding part can be independently controlled.
Paper feed department with the first 4-wheel line, auxiliary cardboard due to the formation of bad trouble.
Feed belt can be adjusted separately: feed suction belt can be moved around, such as large cardboard can move the belt position, the belt adjust even, make the feed more stable.
Human platform: the position of the work table paper is concave, the worker on the paper can be close to the machine, and do not touch the leg.
Paper feed and folding linkage frequency conversion speed, the average speed of 100-180 pieces/min.
Gluing folding part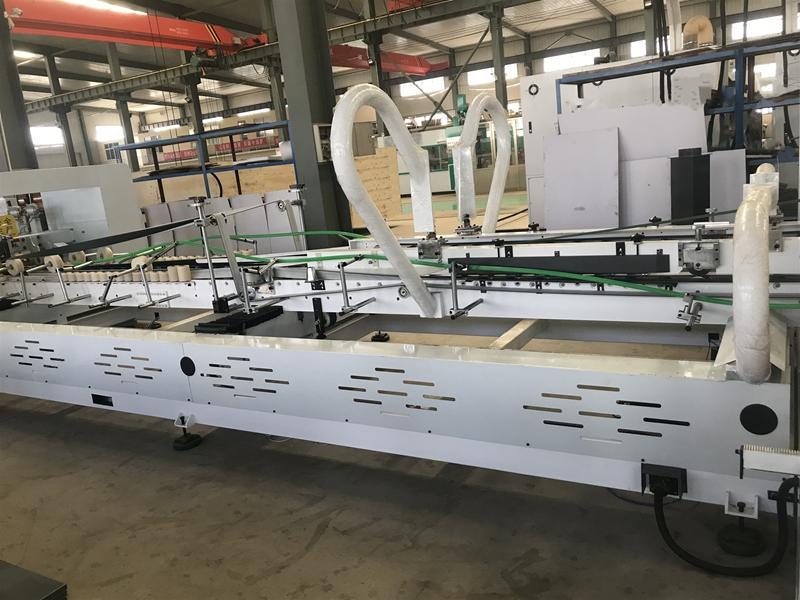 Conveyor belt imports from Germany without joint ring, high friction belt, ensure the delivery of cardboard accurate
Stainless steel coated rubber wheel, coated evenly and save glue, never rust, resistant to a variety of glue corrosion.
Folding part with cardboard line pressing correction device.Unique pressure line Angle in the finishing function, omni-directional adjustable, can make cardboard folding indentation line again finishing, concise and efficient completely eliminate the occurrence of "scissors mouth" phenomenon, suitable for different thickness of cardboard.
The use of high-grade linear guide and linear bearing, so that the machine is simple to operate, error is lower, by
Durable, as long as the lubrication in place is basically trouble-free.
Diaphragm pump automatic gluing system: the glue can be used again, to avoid the operator error caused by the glue rework.
Application of iron wheel: all the forced wheels in the folding part of the middle part of the machine are made of 45# steel plated with hard chromium.
Stitching machine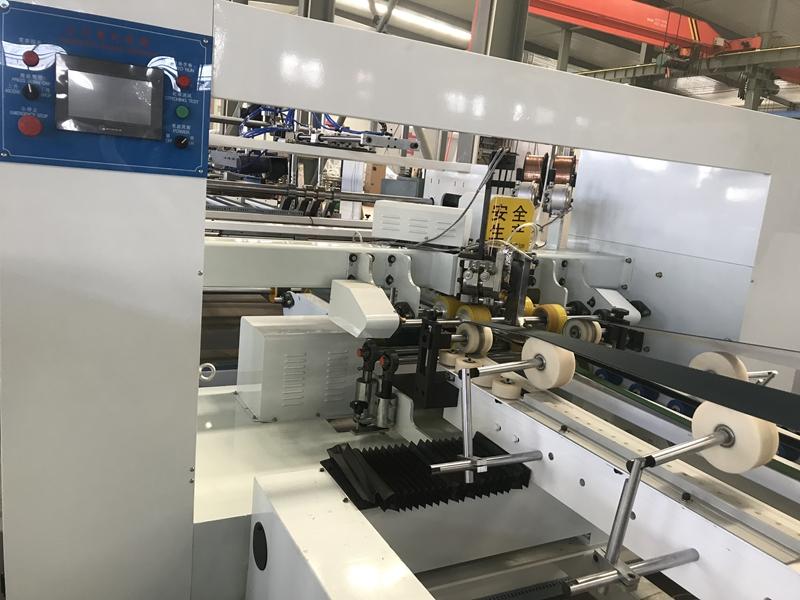 The whole group of nail head all made of Japanese die steel, computer gong precision processing.
Can nail single nail /, double nail //, strengthen nail (// // / two ends are double nail middle part for single nail) one-time completion, can suit different customers for different requirements of nail species.
Change the size of the carton and adjust the nail distance only one minute can be completed, greatly save time to operate.
Nailable lid box & carton without lid (there is no lid box to nail in the case of ordering machinery)
Pressure paper rubber wheel gap electric adjustment.
Adjust the nail distance, use the computer to set the automatic adjustment of nail distance, nail distance for 30-120mm arbitrary adjustable.
Automatic wire feeding system, no wire alarm, 20KG plate flat wire, save time.
Head speed: 600 nails/min.
Optional: carton over box function.
Counting stacking part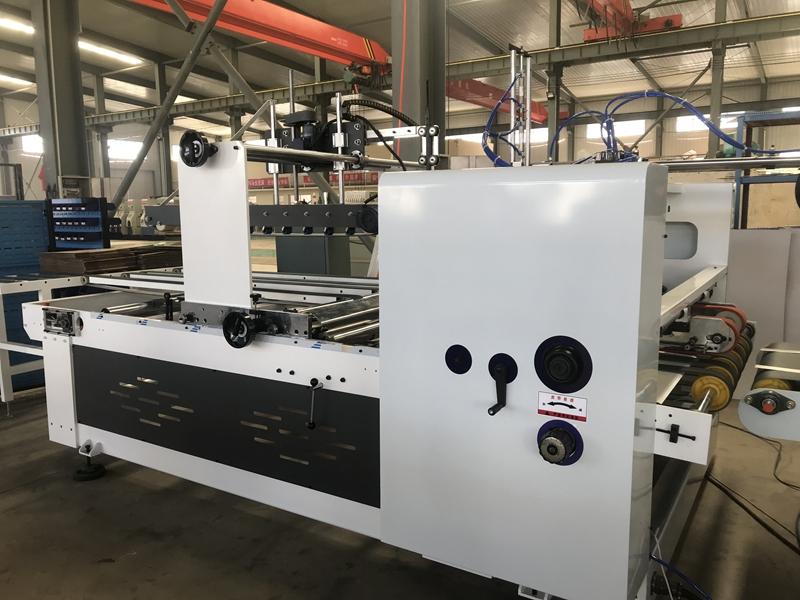 This group has a unique, the most advanced coaxial asynchronous device, each do his best, good deviation correction.PLC programmable controller and touch screen, digital control.Quick response, accurate and reliable action, simple operation.
Count and push pneumatic way, action reliable, accurate, fast.
Compression output department with slow stop conveying device, can accommodate more than 200 cartons, so that the carton can be in the state of compression for a long time.It not only ensures the bonding strength of the carton adhesive requirements, but also effectively improves the carton compression degree, making the carton appearance more beautiful.
Electric lifting dragon boat device: no personnel climb up to the machine, save time and safety.