| | | | | |
| --- | --- | --- | --- | --- |
| Model | Roller diameter | Over the paper printing | Area of valid printing | Speed |
| ZKYM1020 | 320mm | 2000mm | 1000*2000mm | 220pieces/min |
| ZKYM1224 | 405mm | 2400mm | 1200*2400mm | 200pieces/min |
| ZKYM1628 | 500mm | 2800mm | 1600*2800mm | 120pieces/min |
| ZKYM1830 | 600mm | 3000mm | 1800*3000mm | 100pieces/min |
| ZKYM2234 | 720mm | 3400mm | 2200*3400mm | 80pieces/min |
| ZKYM2536 | 820mm | 3600mm | 2500*3600mm | 80pieces/min |
Machine features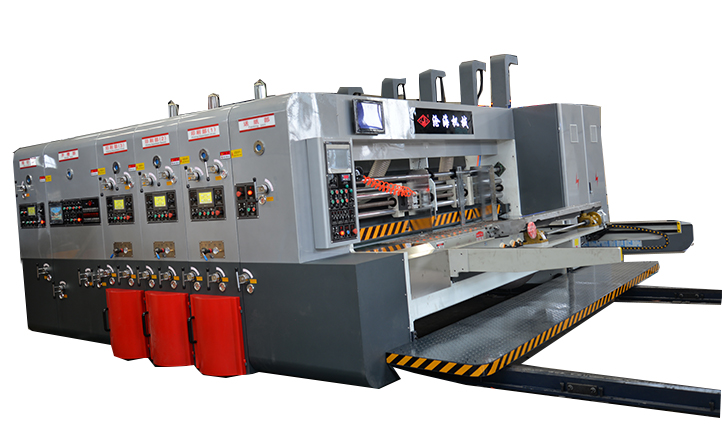 1. this machine is designed and produced based on high quality, high speed, high efficiency, reliability and safety, with the advantages of quick changing order and easy operation.
2. adapting imported PLC with touch screen control. It can save order, and accelerate the changing order speed.
3. adopt high quality material and assembly part.
4. all cylinders and rollers are chrome plated for ideal hardless.
5. transmission gears from precision grinded alloy steel and with spraying type circulating lubrication system.
6. use expansion sets tight link to reduce abrasion of the shaft, keep high precision of the machine in long year.
7. adopt hanging structure, auto reset, quick changing order.
8. each unit is equipped with Emergency Stop switch to ensure safety operation.
9. Using Self Locking gap adjustment device for ease operation.
10. Electric element, bearing, and pneumatic element all use international famous brand.

Stacker

1. auto or manual for stacker system control.
2. the driving belt of connection arm can adjust the elasticity alone and can choose the number of connection arm as will.
3. platform elevator is drive by strong thread.
4. height up tp 1600mm.
5. platform elevator with brake control device to keep stable in fixed position and antislipping.
6. pneumatic paper bearing board assist the circle receiving device.
7. manual adjustment the position of back block.
8. the plane wrinkle leather belt which prevent the cardboard glides down.

Feeder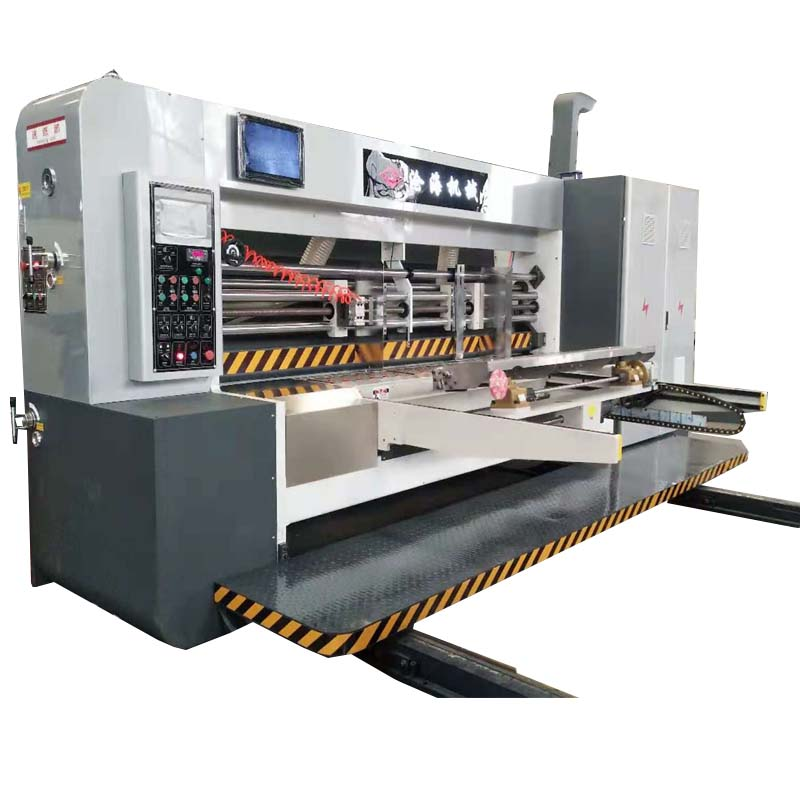 1. lead edge feeder system, inverter adjust air volume, feeding in precision and seady.
2. double feeding roller model, quick replacement mechanism for the first feeding rubber roller, with spring adjustment function, it can prevent distortion and to ensure accurate feeding of cardboard.
3. brushes and suction device remove dust from board surface.
4. touch screen displays production speed and quantity.
5. adjust the feed interval by manual.

Printer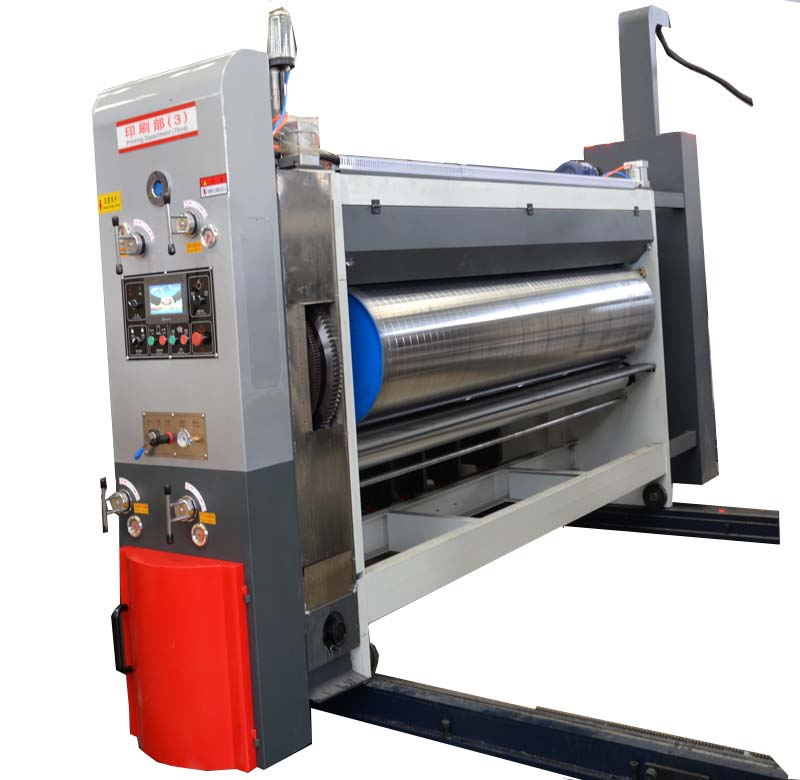 1. both printing cylinder and impression cylinder are made of high quality steel with grounding surface and chrome plated. Dynamic and static balance correction ensure to run stability.
2. adopt hanging structure,,convenience and fast to set up.
3. installing and uninstalling printing plate with pedal switch or operation panel to control forward and reverse.
4. to match with feeding unit the machine with automatic lift anilox, when the feeding unit runs, the anilox roller goes down to contact with printing plate, while, on contract, leave printing plate.
5. phase position utilizing electromagnetic clutch locking device, with intelligent zeroing funtion and can reset in dynamic and static condition.
6. printing phase adopt PLC touch screen and 360 degree electric adjustment.
7. pull roller quick lateral moving mechanism, self-locking gap adjustment device.

Slotter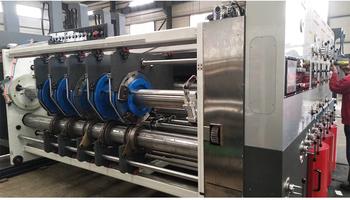 1. the slot knife thickness is 7-8 millimeter, which is from high quality alloy, tooth profile in sharp cutting, high wearable.
2. the slot knife with phasing and box height adjustment device, the frequency changer control the dynamic 360 degree adjustment.
3. precision linear slide way, accurate lateral movement with smooth slotting.
4. regards the user's need it can match the punch device.
5. pre-creaser, creaser, slotting knife holder, self-locking gap adjustment device.
6. spring type single slitting knife with glabrous slitting effect and cost saving.
7. middle knife motorized moving device, fit for each production.

Rotary die-cutter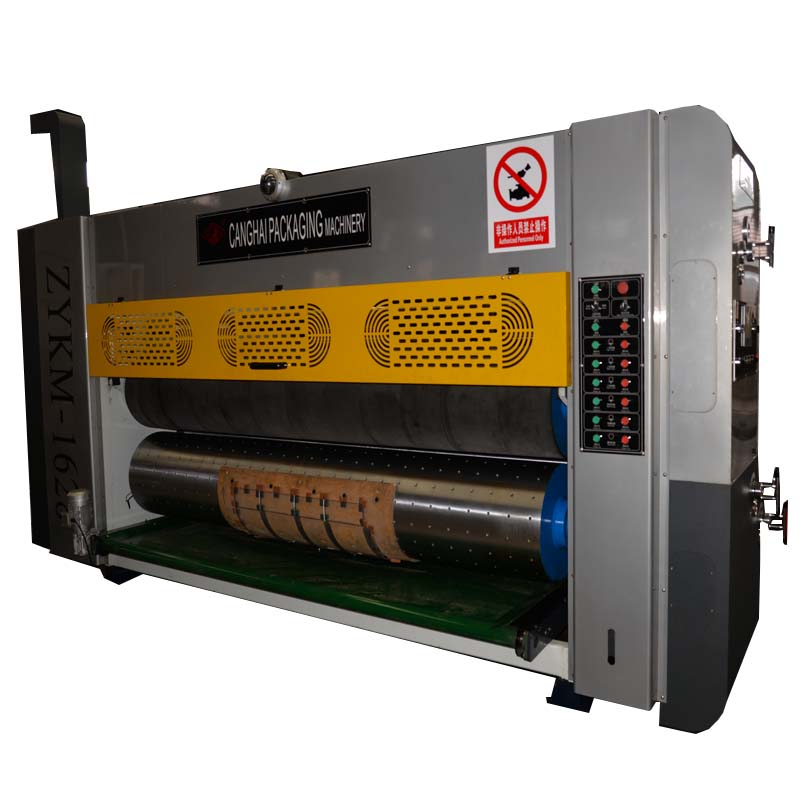 1. die cut unit roller adopt high quality steel, plated with rigid chrome. High precision dynamic and static balance increase running stable.
2. mould roller and rubber roller can auto separate by cylinder eccentric device when the machine don't die cut this can lighten machine load and increase rubber roller and die knife life.
3. matching with feeding system, it with auto up and down device, the rubber roller will down when feeding paper. The rubber roller will up when stop feeding paper. To make sure every paper die cut correctly.
4. the mechanical transmission rubber roller move 40mm in left and right side. It also with wear and tear regular could increase the life of rubber roller
5. die cut phase adopt PLC touch screen, 360 degree adjust electric number.
6. machine with rubber amend device, the rubber roller can be used after many times amend.
7. free die mould slotting unit, no need to make the die mould when making normal box, saving cost and improved efficiency.(optional)